Pics, New and Old
For the next few weeks, I will probably saying very little on here, but will be posting quite a few pictures instead. My friends, Beth, Katie, and Mona and I all got together last weekend and swapped pictures we'd all individually taken while together here, and I literally have over a hundred new pics from times that I forgot to bring my camera or else the pics I took didn't come out nice, etc. I'm sort of crazy busy at the moment, trying to read a book and write an analyses and summary of it, along with finishing up work at my schools, and also this weekend is nonstop party action planned for my birthday (first a festival in the town where I teach, and then the following night dancing in Roppongi). After that, my mom and aunt arrive. And I'm *still* trying to finish a story that's taking me forever to write. It's nearly there, but this one has been a monster to me. Let's hope the efforts will be rewarded one day, in some way shape or form.
So for a while, pictures! Without much explanation either, I'm afraid. I'm saving my words for other projects now. So if you have any questions, go ahead and feel free to ask.
Beth and I play karuta this past winter at the home of some Japanese friends. We play karuta with the kids in the elementary schools to teach them English vocabulary. These kind women turned the tables on us and had us play it with Japanese vocabulary and kana.
During the Spring when the cherry blossoms were in full bloom. We did the traditional thing and had a picnic under them.
The famous night when Masahiro picked up Mona and we went to the karaoke bar together. Here I am translating to Masa (this is not the "date" I went on with them, this is just the first night they met).
We went to a festival in Arakawaoki, the town next door, last weekend. Here are the girls in front of a wall of lanterns.
We drank a lot of wine that night. Mmm, so good.
But then they made us carry the shrine with the god inside it!
With all that wine, it was so heavy!
But while Mona and I look indignant, full of wine, Beth hadn't been drinking and seemed to make it into a sort of salsa dance or something. Jealous!
Back at Beth's apartment, I was about to give Katie a sexy dance out on the balcony (see the wonderfully placed hand grips on the bottom of the balcony overhead--good for dance club "cage dancing" simulation) but Beth caught us before I could get very far. Katie's all like, pff, I'm not stupid! I'm always up for a little somethin somethin.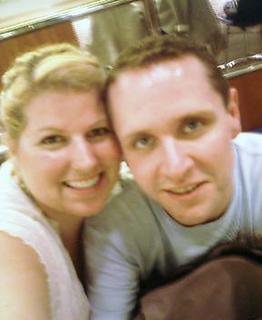 And lastly, from about a month or so ago, in a cafe beneath Shinjuku Station, drying out from the sudden MONSOON-like rain that came crashing down on us, me and Jody.
Apparently I'm having a lot of fun here!