If you meant to but forgot...
The 2006 edition of Rabid Transit has been published and debuted at Wiscon last month. It's a really amazing collection of stories we gathered this year, and I hope you'll take a look at it.
You can order it here.
Or, if you've never experienced reading the Ratbastard chapbooks before, you can order all of them at a cheaper price than it is to order individual issues. Give them a try. I don't think you'll be disappointed.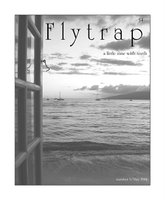 Also I've been meaning to get the word out that the new issue of Flytrap is out as well, also debuting at Wiscon last month. It has a great cover photo that Heather Shaw took on her and Tim Pratt's honeymoon in Hawaii, and is full of really good stories from Haddayr Copley-Woods, Barth Anderson, Meghan McCarron, Ruth Nestvold, Nina Kiriki Hoffman, and David Ira Cleary. My story, "Learning to Leave" is also in this issue. Erin Donahoe is the featured poet, and there are nonfiction samplings by Nick Mamatas and Erin as well.
You can buy a copy of it here
.
Lots of good stuff is out there right now. Go get it!